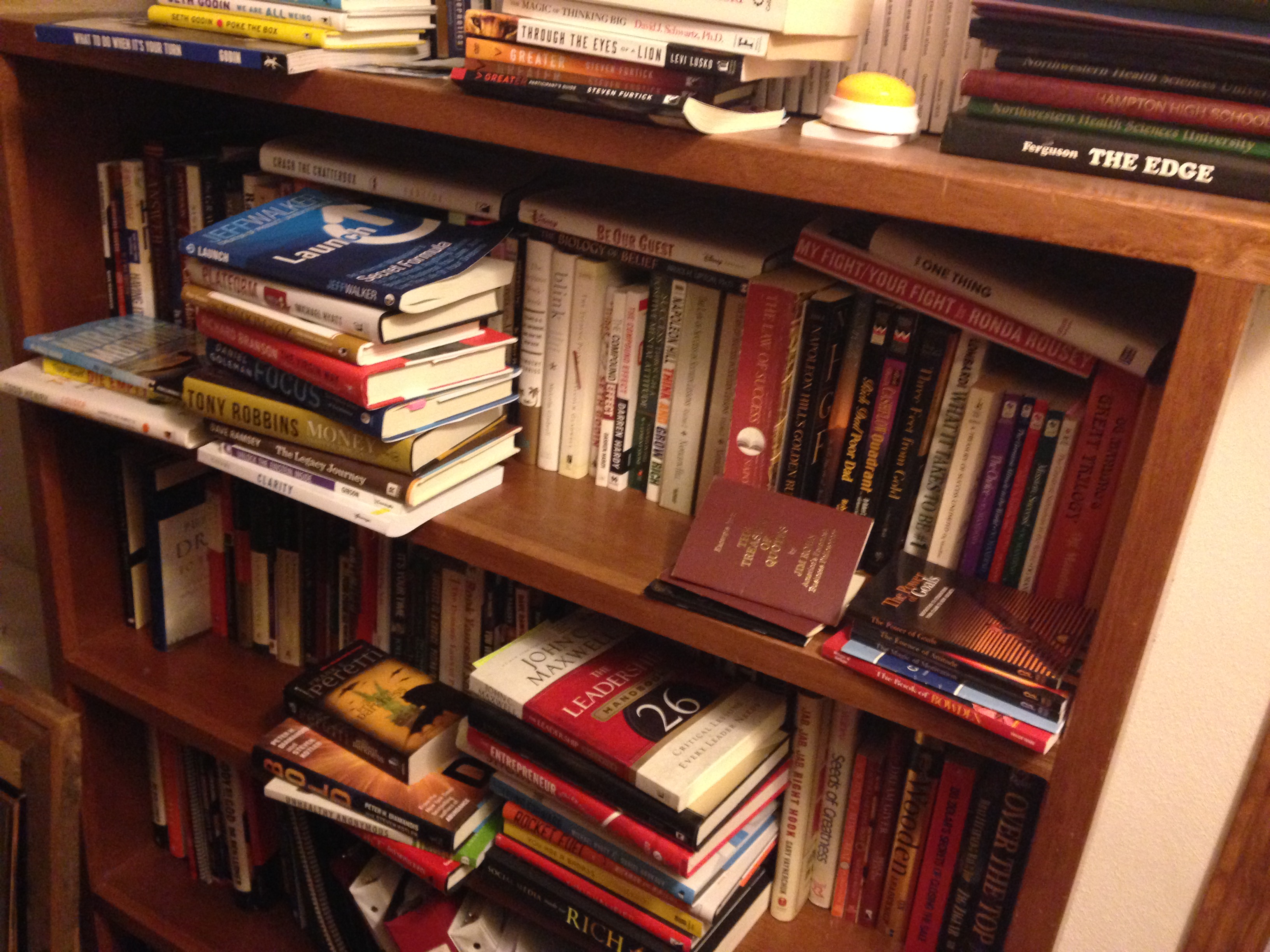 I get asked all the time what my favorite books are so I thought I would post my 'Top 10 List of Inspired Reading List' on this blog for you.  The above is an actual picture of books that I have chosen to keep in my personal library.  They are all incredible and hopefully you can get an idea of what I read about.  I was once told that the quality of your life will be dictated by two things 1. the quality of your friends and 2. the quality of the books you read.
Any and all of the books in this picture could be in my Top 10.  But the one's that I put on my list are  great books that I have found incredibly valuable in my journey of life.  I hope they do for you what they have done for me. Enjoy-
The Traveler's Gift by Andy Andrews
The Traveler's Gift is a book of success principles told as an easy to read parable. The hero of the story is David Ponder, a man down on his luck who, after an accident, finds himself hurled through history meeting many famous (and a couple of not so famous) leaders and other heroic figures. This includes two American presidents, Lincoln and Truman, Christopher Columbus, Ann Frank and King Solomon that teach him wisdom to guide him in his life.
The War of Art by Steven Pressfield
Three letters come to mind when I think of this book–OMG!!  If you have ever struggled with finishing something that you start, this book is for you.  If demonstrates the 'hows' and 'whys' we struggle to complete things and share our craft with the world.  Highly Recommend this incredible read.
The reason many of us fail to achieve all that we want in life is because we don't go "All-In".  We 'kind of want something.'   This book will bring you face to face with asking you THE question –How bad do you want it?  Great read.
Everything Counts by Gary Ryan Blair
I purchased this book on the recommendation of a friend and was not disappointed. Too many people and organizations are stuck in a mediocrity of their own making. They focus their attention and efforts on getting the big things right, but they ignore the little things that often make a big difference. As a result, reputations are damaged, brands diluted, and loyalty is lost by blatant disregard for the small stuff which negatively impacts the customer experience.  Everything that you do, say and put out into the world counts as it's a reflection of you. Get this one today.
Written by a paster, this book explores the details of how God wants us to 'Live Greater' for Him not for ourselves.  This is one of my all-time favorites that I send out to friends who may feel stuck in their stuff.
Louder Than Words by Todd Henry
A recent gem that I discovered.  This book shows you how being authentic to yourself, your values and your life that you can live and amazing life by simply being you. This book is really  a very practical, grounded tool set to intentionally apply to improve the congruence of your vision, strategy, and performance to achieve your work, and life, goals.  Love this book!
Life's Golden Ticket by Brendon Burchard
Written in parable form, this book asks the question–What would you do if you were given Life's Golden Ticket that you could magically start your life again.  Have you been missing all of the blessings along your journey that may be being demonstrated in your current frustrations in life.   Feel stuck?–Get this book.
The Monk Who Sold His Ferrari by Robin Sharma
This incredibly inspiring parable tells the extraordinary story of Julian Mantle, a lawyer forced to confront the spiritual crisis of his out-of-balance life, and the subsequent wisdom that he gains on a life-changing odyssey that enables him to create a life of passion, purpose and peace.  Feeling out of balance? Read this book.
The Compound Effect by Darren Hardy
I utilized this book for a 6 week course that I lead by making this book required reading as part of the course.  It demonstrates how every little thing that you do will compound in your life to give you an end result.  Through stories and examples, Darren does a great job of keeping a complex topic very simple to understand.  You won't be disappointed with this book
Put Your Dream to the Test by John Maxwell
An easy read with a possibility of MASSIVE impact in your life.  If you have ever had a dream of doing, being or having something….this book asks the 10 questions that must be crystallized before achievement is possible.  Love this book.
Another parable that connects a story to real life living.  This book tells the story of a shepherd boy who yearns to travel in search of a worldly treasure. His quest will lead him to riches far different—and far more satisfying—than he ever imagined. The boys  journey teaches us about the essential wisdom of listening to our hearts, of recognizing opportunity and learning to read the omens strewn along life's path, and, most importantly, to follow our dreams.  A must have in your library.
OH MY….I said Top 10 and that's 11…..it's so hard to choose.  Here a few others to add to your reading list:
Unlimited Power by Anthony Robbins
Think and Grow Rich by Napoleon Hill
The Greatest Salesman in the World by Og Mandino
The Magic of Thinking Big by David Schwartz
THERE ARE SO MANY MORE!  I may have to do a Part II;) Read these books and DO what they share.