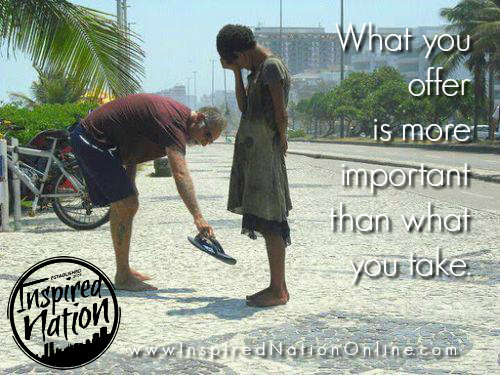 What will I get?
How will this situation serve ME?
What's the return for ME?
Forget YOU for a moment and think of what are you creating, offering, developing or giving to others that may enhance their life?
This photo says it all.
Your life is abundant.
Your world is blessed.
Be grateful for that.
YET….don't stop there.
What can YOU DO for someone else today that would…..
….make them smile.
….enrich their day.
….add value to their life.
….help build confidence in themselves.
….in summary—-"CREATE AN INSPIRED NATION."
It's not just a catchy phrase 'The Inspired Nation'…..it's an invasion into the current way people live for themselves and others……to drop the shit of ego and get back to service.
Your role isn't to absorb…..
YOUR role is to help others remove the shackles from the limitations they believe that continue to keep our world in mediocrity.
Get busy.
You got this.
YOU DEFINE YOU.
Dustin Behn